Benefit From Controlling Your Indoor Air
Aprilaire can help you turn problem air into healthy air.
Your home is your sanctuary, where you've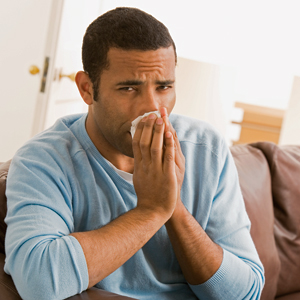 cultivated a comfortable, healthy environment for
your family. But did you know the air inside your home may be more polluted than the air outside?
Indoor Air Quality is Not as Apparent as Outdoor Air Quality
While essential for life, air's purity is not assured. Outdoors, much of the air pollution is visible, reminding us daily that our air quality is being compromised. Indoors, the dangers are less obvious but can be just as harmful.
Indoor air quality, or IAQ, refers to the condition of air in your home. It is made up of:
Temperature

Humidity

Air Purity

and

Air Freshness
Poor IAQ is due to a variety of factors and multiple sources. It can cause problems that affect your home, furnishings and belongings as well as your family's health and quality of life. Everything from minor sinus irritations, to asthma attacks, to dry skin, to cracks in wood floors and furnishings.
An independent testing of the air of 10,000 American homes across the country demonstrated that 96 percent of homes had at least one type of IAQ problem. –Indoor Air Matters Medical White Paper by Doron Schneider, M.D.
You Can Protect Your Family from Poor Indoor Air Quality
You deserve a healthy home environment. Aprilaire can help you identify sources of poor IAQ and provide the right solutions for your home and your family. Solving IAQ problems will enhance and preserve your:
Comfort

: Get rid of itchy dry skin, annoying static shocks and other uncomfortable situations.

Health

: Battle the contaminants that lead to everything from minor sinus irritations to severe health complications.

Home

: Protect your home from wallpaper peels, wood cracks, mold and mildew.

Energy Savings

: Save on energy costs with automatic solutions.

Aprilaire—Your Partner in Improving Indoor Air Quality
Aprilaire has been solving indoor air quality problems for more than 50 years. Our products work with all brands of heating and cooling equipment. Plus, we partner with industry-leading contractors, so you get the most comprehensive line of solutions available today.
​
Are you dealing with these Problems?



Air Quality

Allergy

Asthma

Bacteria

Colds & Flu

Dust Mites

Mildew